About Us
Larnna Thai has been serving authentic Thai cuisine to guests and customers. Our master chefs design meals to suite your taste buds. We have several popular dishes, including the flavorful Pla Nieng Ma Now, BBQ Prawns and Crispy Salt and Pepper Squid. We ensure that your meal is perfectly made with the right combination of fresh ingredients. Try one of our enchanting dishes today and we promise you'll be back for more. Larnna Thai is located right in the heart of Newcastle. Choose the online ordering option and your food will be ready in no time.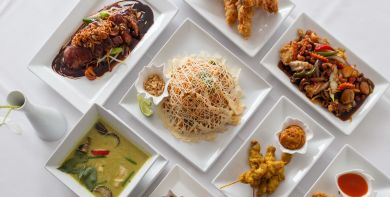 Reviews
Denise
"Tasty food delivered on time by a smiling woman! What's not to like?"
Brian
"Fantastic food. Will definitely order again next time I am in Newcastle!"
We deliver to
2289 Adamstown, 2289 Adamstown Heights, 2289 Highfields, 2289 Kotara, 2289 Kotara South, 2290 Bennetts Green, 2290 Gateshead, 2290 Hillsborough, 2290 Kahibah, 2291 Merewether, 2291 Merewether Heights, 2291 The Junction, 2292 Broadmeadow, 2292 Hamilton North, 2293 Maryville, 2293 Wickham, 2294 Carrington, 2296 Islington, 2297 Tighes Hill, 2298 Georgetown, 2298 Waratah, 2298 Waratah West, 2299 Lambton, 2300 Bar Beach, 2300 Cooks Hill, 2300 Newcastle, 2300 Newcastle East, 2300 The Hill, 2302 Newcastle West, 2303 Hamilton, 2303 Hamilton East, 2303 Hamilton South, 2304 Kooragang, 2304 Mayfield, 2304 Mayfield East, 2304 Mayfield North, 2304 Mayfield West, 2304 Sandgate, 2304 Warabrook, 2305 New Lambton, 2305 New Lambton Heights, 2580 Mayfield